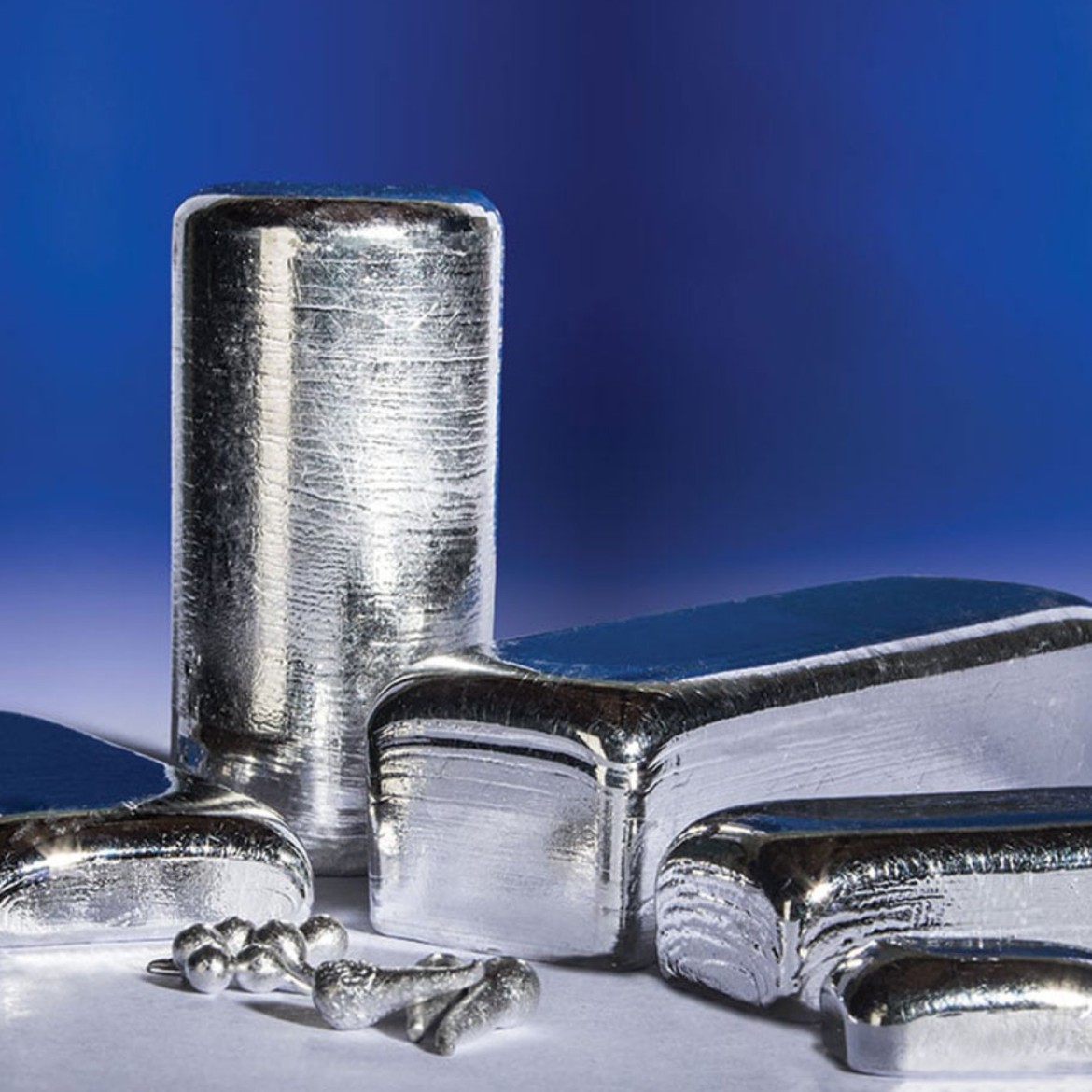 Indium and Indium Based Alloys
Indium: one of the secrets of low-temperature BGA soldering
Indium is a silvery metal with unique characteristics.
Due to its exceptional elasticity, it is used as a sealant in high vacuum equipment. Since it does not embrace even at shallow temperatures, it is also an excellent sealant for cryogenic equipment.
Due to its excellent wettability, by simple cold pressure, it can weld on metallic and non-metallic surfaces, such as glass, quartz and ceramic.

It is an excellent material for electroplating, and in the form of salt, it creates a transparent conductive veil in contact with glass, plastic or metals.

As a high purity metal, it finds application for the "doping" of germanium in semiconductors.
Indium is also a helpful additive in alloy with other metals to improve and modify their physical and mechanical characteristics.

Chemical-physical and mechanical characteristics of Indium:
It crystallises in the face-centred tetragonal system, and it is soluble in hydrochloric, sulfuric and nitric acid, forming the corresponding trivalent soluble salts. It remains unaltered in the air due forming of a thin oxide layer which includes rapidly even at room temperature.

Symbol: In

Atomic number: 49
Atomic weight: 114,82
Density (g-cm °): 7.310 g • cm "at 20 ° C
Melting temperature:156,6 °C
Latent heat of fusion: 6,807 cal / g
Boiling temperature: 2,080 ° C
Calore latente di ebollizione: 468 cal/g
Solidification shrinkage: 2.5%
Electrical resistivity (ohm-cm):
Superconducting at 3.38 °
9×106 at 20 ° C
29.1×10° a 154 °C
Linear coefficient of thermal expansion: 24.8×10 ° per 1 ° C / cm
Tensile strength: 380 to 515 psi
Compression Strength: 310 psi
Elongation: 22% to 41%
Brinell hardness: 0.9 ÷ 1.0
Modulus of elasticity: 1,570,000 psi
Vapour pressure (mm Hg):
1 a 1.249 °C
10 a 1.406 °C
100 a 1.756 °C
400 a 1.982 °C

Lead-indium alloys:
By substituting indium for tin in leaded alloys, migration and embrittlement phenomena of the joints on gold-plated conductors can be prevented.
The remarkable plasticity of indium makes this type of alloy suitable for cryogenic applications.

Indium-Tin alloys:
The low melting point of the tin-indium eutectic allows welding at different temperatures compared to tin-lead alloys. Due to their excellent wettability, we can use them on non-metallic materials.

Indium-silver alloys:
Silver alloyed with indium improves its mechanical characteristics but reduces its wettability.

Indium-Bismuth-Tin alloys:
They have shallow melting points and can replace the classic fusible alloys containing toxic elements such as cadmium and lead.t
Chemical-physical and mechanical characteristics of indium: Alloys with indium:
LEGINF15: melting point ° C: 15,7 Usage: Liquid alloy for thermometers.
LEGINF47: melting point ° C: 47 Usage: Fusible alloy for optical processing (also contains Pb and Cd)
LEGINF58: melting point ° C: 58 Usage: Cadmium-free fusible alloy
LEGINF61: melting point ° C: 60,5-61,5 Usage: Lead-free fusible alloy without Pb and Cd
INF72: melting point ° C: 72 Usage: Lead-free fusible alloy without Pb and Cd
LEGINF79: melting point ° C: 79 Usage: Lead-free fusible alloy without Pb and Cd
LEGINF109: melting point ° C: 109 Usage: Lead-free fusible alloy without Pb and Cd
LEGIN52: melting point ° C: 118 Usage: Microelectronics, Cryogenics, low-temperature welding, Welding of non-metallic parts
LEGIN50: melting point ° C: 118-125 Usage: Microelectronics, Cryogenics, low-temperature welding, Welding of non-metallic parts
IBM 532: melting point ° C: 135-152 Usage: Microelectronics, low-temperature soldering
In97Ag3: melting point ° C: 147 Usage: Microelectronics, Cryogenics, low-temperature soldering, Silver surface soldering
In80Ag5Pb: melting point ° C: 142-149 Usage: Microelectronics, Cryogenics, low-temperature soldering, Gold ceramic soldering, welding of non-metallic parts
In70Pb: melting point ° C: 160-174 Usage: Cryogenics, Soldering on golden ceramic

In25Pb: melting point ° C: 183-268 Usage: Microelectronics, Cryogenics, Soldering on gold ceramic
In10Pb: melting point ° C: 284-299 Usage: Solder on gold ceramic, Cadmium-free fuse alloy
In5Ag2,5Pb: melting point ° C: 300-310 Usage: Soldering on gold ceramic for high temperature
In5Pb: melting point ° C: 292-314 Usage: Soldering on gold ceramic for high temperature