AIXUN T420 LED DISPLAY SINGLE CHANNEL SOLDERING STATION (ULTRA VERSION)
SKU: PPA433372
T210 Handle + 1 Tip Ultra Version: C210-K030
240W high power ring transformer,
Rapid heating speed, quick heating to 380℃ in 2 seconds
Temperature range: 90℃-450℃
Main Station JC Aixun T420
Handpiece holder complete with tip-cleaning sponge
Cable hanger supports
Support soldering handles: (T245/T210/T115)
In stock
Configured with: T210 Handle + 1 Tip Ultra Version: C210 K030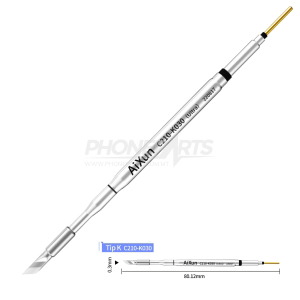 T420 LED Display Single Channel Smart Soldering Station Kit for BGA Rework
• 240W high power ring transformer, rapid heating speed, quick heating to 380℃ in 2 seconds
• Support T245/T210/T115 three handles, easily meet different soldering requirements
• Real-time monitoring of working status, prolonging the service life of soldering tips
• Both suitable for the soldering of large items as well as precise components
• AC pure isolation, anti-interference and anti-static
• Global software upgrade, functions never out of date
Specifications:
Name T420 Single Channel Smart Soldering Station
Model T420
Brand AiXun
Support soldering handles: (T245/T210/T115)
Input fuse 3A
Input voltage 220V
Temperature range 90℃-450℃
Rated power 200W
Main station size: 178.4*112*125mm
Handle holder size: 154*65*77.4mm
Grounding resistance of tip: <2ohms
Features:
AiXun T420 smart single-channel soldering station is a new high-efficiency welding station with an intelligent temperature control system which is beneficial for prolonging the service of welding iron tips.
It is equipped with a 240W super high power ring transformer, with which the temperature is able to heat up to 380℃ only in 2 seconds.
It supports T245, T210 and T115 three handles which can help meet different soldering needs, including soldering large items as well as little tiny precise components such as PCB, BGA, SMT, CPU and mainboard reballing.
Like other AiXun products, it also supports global software upgrades, helps you enjoy the latest functions and is never out of date.
It's a worth-buying soldering station and a necessary tool for mobile rework.
List of Packing:
1 x Main Station JC Aixun T420
1 x Handpiece holder complete with tip cleaning sponge
1 x Cable hanger supports
1 x T210 Handle
1 x Cartridge Tips Ultra Version: C210-K030







Additional information
| | |
| --- | --- |
| Weight | 4,00 kg |
| Package | Aixun T420D Standard Configuration, Aixun T420D Lite Configuration |